The 2017 Ford F-150 has been not only a Decatur area favorite, but has been America's go-to pickup truck. The F-150 keeps adding awards to the trophy case which includes ones like Autobyels.com "Truck of the Year," and "Best Full-Size Pickup" from Car and Driver. While this Ford truck knows how to have fun, it also knows how to make those tough jobs easier.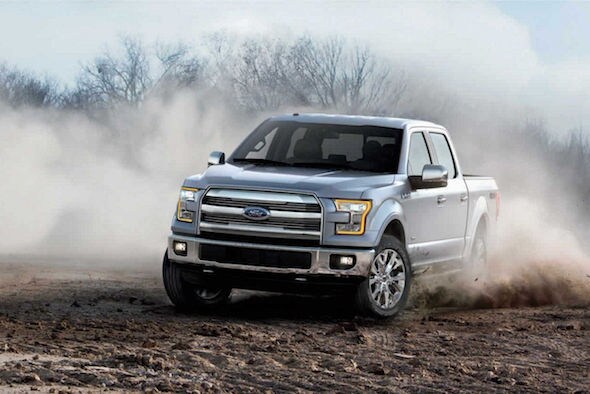 2017 Ford F-150 is a Game Changer for Workers
This beast excels in these four areas: towing capabilities, payload capacity, torque, and horsepower. Depending on the task at hand, the F-150 will make it so much easier for you to get your work done faster and efficiently.
1. Towing capabilities: Farmers will find moving their livestock and their food much easier with this Ford truck. The F-150 can tow up to 12, 200lbs! This is made possible by the High-strength, military-grade, aluminum-alloy body frame it possesses. This will guarantee the outstanding towing this vehicle is know for.
2. Payload advantages: Time to fill the truck up! This long-lasting truck can handle up to 3, 720lbs payload. That means you can put farmer equipment, food, and other goods in the truck and the bed while navigating the roads safely. Our Decatur area Ford dealership recommends drivers flip on Tow/Haul Mode which will reduce gear hunting, improve power delivery when hauling heavy loads.
3. Torque: With 470lb.-ft. of torque, you know the Ford F-150 is resilience. Thanks to the available 3.5L EcoBoost® V6 engine, you can move your car at a nice speed while you have that trailer hitched up in the back.
4. Horsepower: Not only is this truck exemplify toughness, it matches with incredible speed abilities. You can get a Ford F-150 with up to 385 horsepower! As you drive down I-27, you'll find yourself riding comfortably even though you have heavy duty farming equipment in the truck's bed.
The 2017 Ford F-150 is just waiting to be taken on a drive and to show you what it is capable of. Contact us at (855) 430-6924 to learn about our inventory.