While all dads are different, the one thing they have in common is the special place they hold in our hearts. It can be tricky to show them exactly how much you care by buying them the ideal gift. If you're looking for the best Father's day gift idea for your dad, our
Ford dealership
near Lima is here to help provide you with the information you need!
If he's a Ford enthusiast like we are, we have the perfect automotive-inspired gift ideas that he will love. Whether it be for his very own Ford vehicle, or the garage where he takes it care of it, you'll find everything you need to give your dad not only what he needs, but what he wants this Father's Day.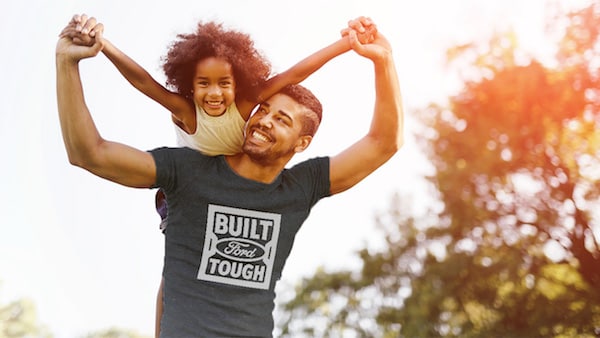 Ford Merchandise
If it's merchandise you're looking for, there is a variety of Ford merchandise that will fit even the most unique father's style. Ford offers many appealing and comfortable apparel items, such as socks, headwear, shirts, and jackets in many different styles for all types of weather. Sunglasses are another great idea, as are bags that carry the necessary items for any weekend trip he takes in his Ford.
For the dad with his own special space, Ford garage decor is also available. There are many different options to choose from that help make a Ford drivers garage more of an extension of their beloved vehicle. Whether he needs a new generator for the garage, or simply a new stool, he will always be prepared with what Ford has to offer.
Ford Service and Parts Near Lima
Sometimes the best way to show your father you care is to give back to him in a way that makes his life easier. While we try to ensure that vehicle maintenance is never a hassle, we understand that the expense and time involved in bringing in your Ford can be taxing in itself. That's why we also recommend bringing in your father's Ford for routine maintenance or much-needed auto repair, so that he can rest a little easier knowing his vehicle is being well taken care of. Whether it be an oil change or a part replacement, fortunately our Lima area dealership offers low prices, and great Ford parts service specials so this gift doesn't have to break the bank.
This Father's Day, a good way to show your love is to show that you care about his interests, including his Ford. Shower him with attention by giving his Ford pickup a wash, or buy him some tools that he'll actually use in the garage. For more Ford gift ideas for your dad this Father's Day, contact us at Statewide Ford today!