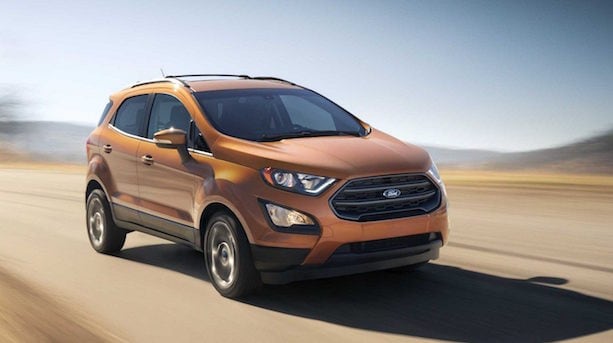 When it's time to go back to school, that means it's time to get prepared for the new challenges on the horizon. These challenges might include fitting an entire college dorm into a car to drive your college student back to school, and/or unpacking the same car with minimal damage to the cargo. This school year, make sure you're ready for wherever the road takes you with a new Ford that can fit your precious cargo in different convenient configurations.
Starting the School Year With a New Ford Near Delphos
We have many models to choose from at our Ford dealership near Delphos, so it's always a good idea to take a look at our inventory to keep your options open. Whether you need more space for your classroom materials, or you need a new vehicle to ride back to school in, there's never been a better time for Delphos area drivers to purchase or lease a new Ford. Some of the most dependable, cargo-hauling models include the Ford Explorer, Escape, Fusion, Ecosport.
Ford EcoSport
A great option for college students is the fun and compact EcoSport, with its second row seating for friends, good fuel economy for commuting, and SYNC 3 for navigation. The size is perfect for navigating tight parking spaces on campus, especially with the standard rearview parking assist.
Ford Fusion
Another more compact option that's perfect for young couples with a small family or students not looking for an SUV, is the Ford Fusion. While it's not a large vehicle, it handles like one with its available All-Wheel Drive (AWD). This vehicle is also fuel efficient with 31 mpg highway, and it has plenty of safety.
Ford Escape
The Ford Escape is the essential SUV for packing for trips. It offers Four-Wheel Drive (4WD) and a five-star crash rating for protection. Most importantly, it can all of your necessary belongings with its impressive cargo space and 60/40 folding seats.
Ford Explorer
When you need to pack your precious cargo and seat passengers on your way to school, the Explorer is a good choice. With available seating for seven passengers, and power fold seats that offer more space, you'll be prepared to arrive in organized style.
For more information on our recommended Ford models for back to school, contact us at Statewide Ford.