Service Your Vehicle With Statewide Ford Near Lima
When it comes time for your vehicle to receive routine maintenance or repairs, you'll want to bring it somewhere you can trust. At our Ford service center near Lima, we have an incredible team of knowledgeable and highly-trained mechanics who know just how to get the job done right the first time. From oil changes to engine repairs, and everything in between; we offer a wide range of services to help keep your car running smoothly on the streets for years to come!
If you're in need of a new part for your Ford vehicle, we've got you covered. We carry a wide range of genuine OEM Ford parts in our parts department, ensuring that your car receives the quality it deserves. If the part you're looking for isn't available, we will gladly order it and have it for you in a timely manner. Need help installing your new part? Head over to our service center, and our technicians will gladly help you out.
What Makes Our Ford Service Center Near Lima Stand Out?
We are proud to offer unparalleled service that outshines the competition! Here's ten reasons why you get the best service with Statewide Ford near Lima:
We offer the highest level of technical training, state of the art equipment, and factory specified parts to our customers.
Our technicians are continuously trained to be up-to-date with today's complex vehicles. We also have Ford master certified technicians on site.
Besides being excellent mechanics, our technicians are also electronics experts.
We purchase and use diagnostic equipment, and maintain computer links to factory service professionals.
We have a massive inventory of genuine Ford parts.
We guarantee our repairs.
Servicing with Statewide Ford eliminates the possibility of voiding manufacturers warranties that specify maintenance schedules.
For your convenience, we offer extended service hours, express service lanes for routine maintenance and simple repairs, guaranteed time of delivery, and "loaner" cars when lengthy repairs are needed.
In addition to the best service, we also offer the best local prices.
Most importantly, we make sure our customers are satisfied!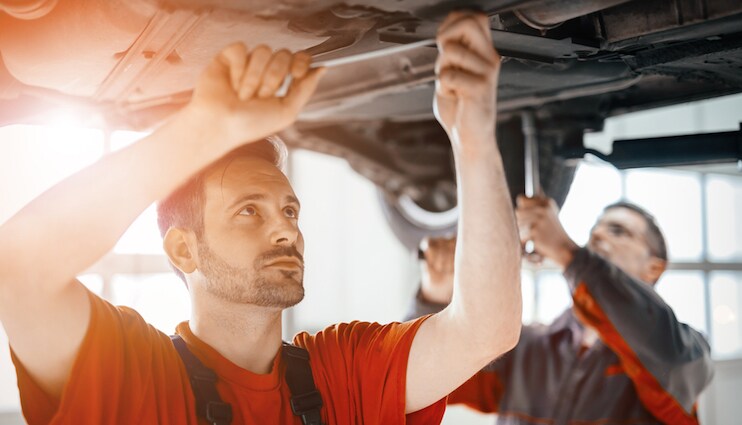 In order to truly see what makes us stand apart from the rest, schedule service with our Ford repair center. We look forward to serving you!