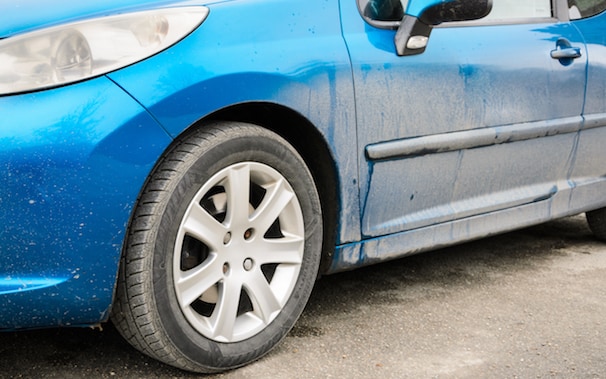 When temperatures dip below freezing and snow starts to fall, road salt can help make driving conditions safer for everyone on the road. This same product, however, can wreak havoc when left plastered to your vehicle's exterior or tracked inside your ride. Thankfully, there's an easy way to clean road salt off your car with these tips from our Ford dealer serving Delphos.
Clean Up Your Car's Carpet
When snowy conditions strike, it can be tempting to immediately jump into your vehicle to escape the cold but you're bound to track some salt from the roads and sidewalks inside with you. Letting this salt melt into your car mats can cause stains but drivers can take action by creating a cleaning solution from equal parts warm water and white vinegar. Take care to spray, scrub, and dry the affected areas to bring your car's carpets back to life.
Regularly Wash Your Vehicle
No one loves braving the cold but it's actually more important to keep up with regular car washes in winter than any other time of year. More than just an unsightly white sheen on your car's exterior, road salt can degrade the steel, aluminum, rubber, plastic, and vinyl on your vehicle if left to sit. Be sure to remove it on a regular basis to minimize damage.
Prevent Future Road Salt Buildup With Help From Our Delphos Area Ford Dealer
Dealing with road salt all winter long can be tiring, not to mention damaging to your ride. To prevent future buildup of road salt consider prepping your vehicle for the colder months with regular waxings and winter accessories like all-weather mats. At Statewide Ford Lincoln, we offer a variety of car accessories along with plenty of Ford accessory specials to ensure you can protect your vehicle all winter long!
By following these simple tips, you can help safeguard your car's interior and exterior throughout the cold winter months. If you need help from the experts, however, feel free to contact us at Statewide Ford Lincoln to learn more about the automotive repair services we offer.