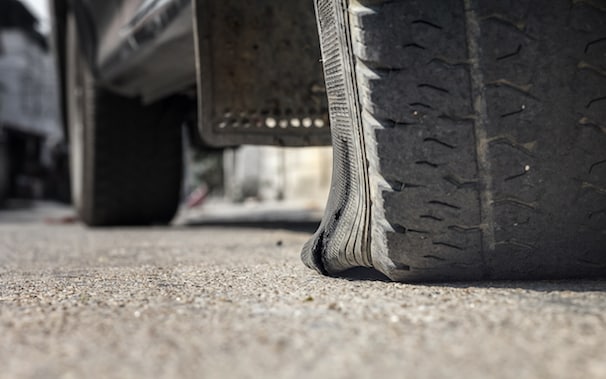 For many drivers, there's nothing more frightening than experiencing a tire blowout while traveling at high speeds. Thankfully tire blowouts are entirely preventable and easy to avoid with routine maintenance and these simple tips from our Ford service center near Lima.
What Causes A Tire Blowout and How Can You Prevent One?
The best way to prevent a tire blowout is to understand exactly what causes one. While several outside factors like heat and potholes can exacerbate the situation, most tire blowouts are due to pre-existing tire damage such as punctures, abrasions, bulges, blisters, sidewall cracks, low tread, and incorrect tire pressure. Take care to regularly inspect your tires for the damage listed above and be sure to keep an eye out for the following tire blowout warning signs:
Excessive wear and tear
Aging and dry rot
Slow leaks or a flat
Damage from bad driving habits or neglect
Your tires play a vital role in both the performance of your vehicle and your safety behind the wheel so it's important to keep them in excellent condition. Drivers can do so with regular visits to Statewide Ford Lincoln for routine procedures like tire rotations and wheel alignments, but don't be afraid to visit us for more extensive tire maintenance. Our team of certified Ford technicians is well-equipped with the latest diagnostics tools, have a large inventory of top-brand tires in stock, and can perform a number of tire services including patches, repairs, and more to keep you rolling around the Lima area!
Schedule Service At Our Lima Area Ford Dealer
Tire blowouts can be nervewracking but a little bit of maintenance and foresight can help prevent most tire emergencies. If you notice your tires underperforming or have any concerns, please don't hesitate to contact us at Statewide Ford Lincoln to schedule a service appointment.