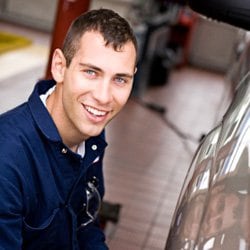 If you're in the market for new Ford parts, then you've come to the right place. There's no better way to make sure that you're getting the right part for your Ford vehicle than to buy OEM factory parts, and the parts department at our Ford dealer serving Lima OH, Fort Wayne IN, Delphos and Decatur IN maintains a massive inventory of OEM Ford parts. We're sure to have the one you're looking for.
Unsure of what part you need? Then talk to us! Our highly knowledgeable parts department staff is there to answer any questions you have, and direct you to the right one. If for some reason that part you're looking for isn't in stock when you come by, our staff will be happy to order it for you, and to let you know when it's arrived in a timely manner.
Fort Wayne Area Ford Dealer Makes it Easy to Find the Right Part at the Right Price
Since we know that owning a vehicle can be expensive at times, we're proud to be able to offer our customers special deals and incentives from time to time. When you're in the market for a new part, be sure to check what specials we're running. Doing so could save you a lot of money in the long run!
After you've purchased your new part, if you need some help installing it, swing by our Ford service center serving Lima OH, Fort Wayne IN, Delphos and Decatur IN. Our highly skilled Ford service technicians will be happy to lend you a hand.
So when you need that new part, drop by Statewide Ford or give our parts department a call at (800) 262-3866. Our friendly team of Ford experts is waiting to help you out!