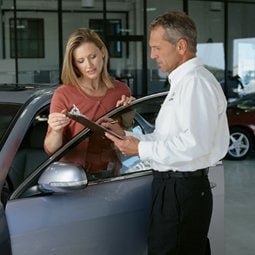 It can be argued that there is nothing that will help you save more money on your car over time than finding a good mechanic. A good mechanic will recognize issues before they happen, effectively communicate those issues, and work with you to find the best way to resolve them. Fortunately for those looking for Ford service near the Lima and Delphos OH areas, we have a team of great mechanics waiting to help you out at Statewide Ford.
Service Professionals Who Care at Lima & Delphos OH Area Ford Dealer
The next bit of advice we can give you to help keep your car running smooth is to check your vehicle's owner's manual and find its model-specific maintenance schedule. Keeping up with routine Ford maintenance will help keep drivers rolling along the road for years to come. 
Don't neglect those little lights when they pop up on your dashboard, either. That's your car trying to tell you it needs something. You'll save a lot of time and money down the road if you service your car as soon as it tells you it needs something. 
Around here, we often say that we make shopping for a new vehicle the way it ought to be. Well we make servicing your vehicle the way it ought to be as well. Give us a call at (800) 262-3866 or visit Statewide Ford and see what we mean!